---
Baker Lake South / Anderson Point / Maple Grove Campground
Backpacked 2020-11-14
Overview
Baker Lake is a nine-mile-long man-made lake nestled against the southern foot of Mt. Baker in Washington State. It is a year-round outdoor recreational destination affording multiple campgrounds, miles of trails, and a variety of land and water activities.
Notes
Terence wanted to geocache some stuff up a creek north of Baker Lake. Our plan was to drive up on a Saturday morning, backpack in, cache the goods, and spend the night, before hiking back out the next morning.
A huge winter storm had passed through the prior weekend, and the forecast was for clear weather. We had barely arrived to the area when it started snowing buckets, though.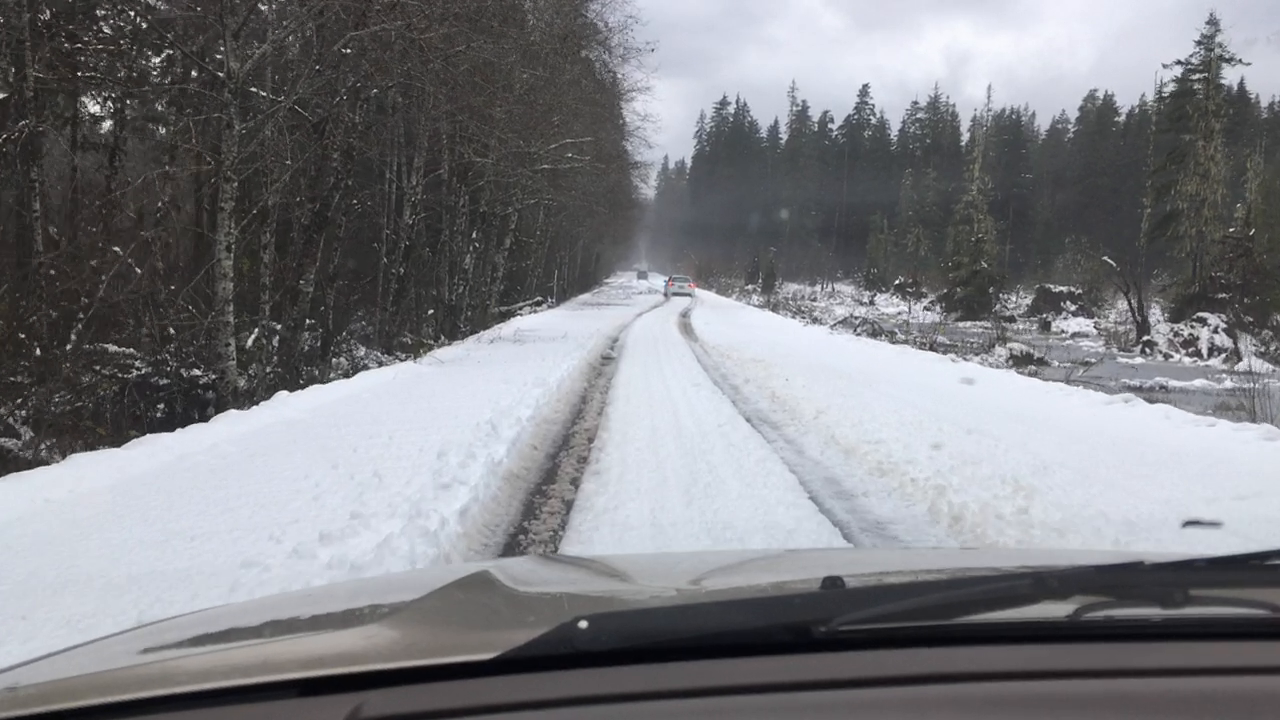 As we traveled further up the north side of the lake, we soon ran into further trouble: downed trees across the road. I assume they were from the storm the weekend before. A dad and his two teenage children were slowly going up the road, sawing wheels out of the downed trees, and rolling them off. We joined in the effort for a couple hours, eventually clearing the road of seven downed trees.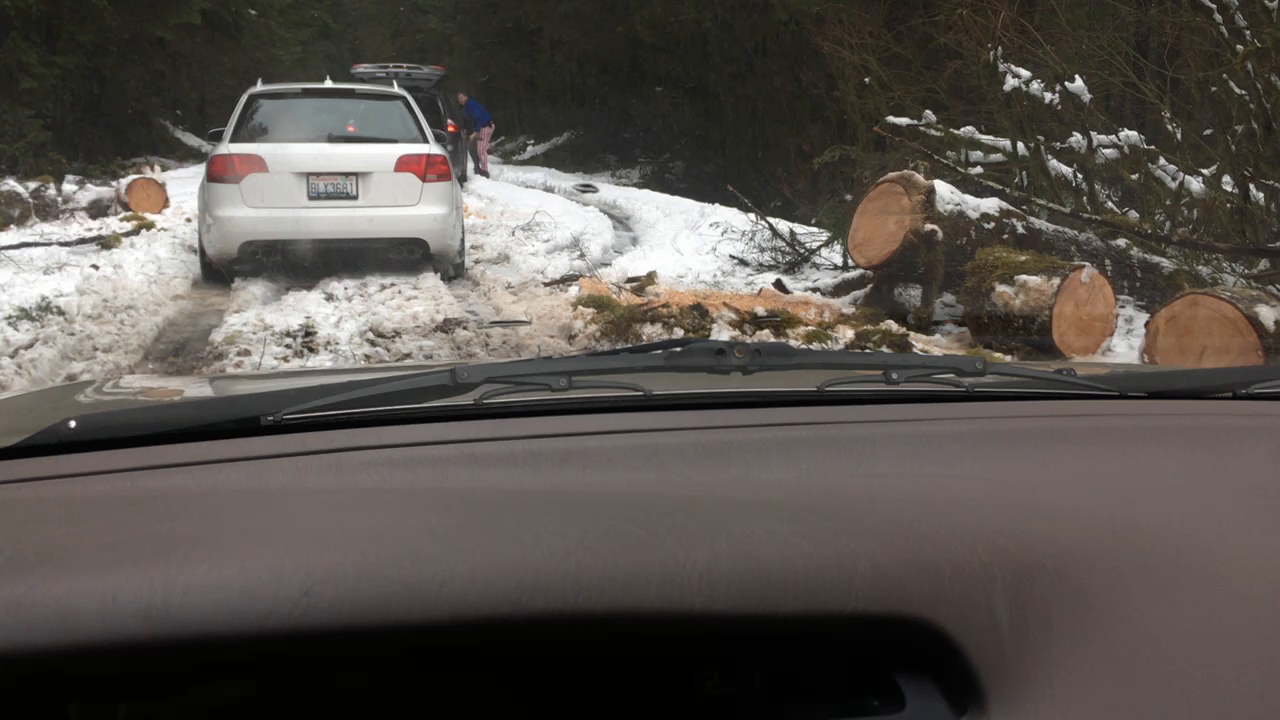 A change of plans
The snow was getting deeper, and soon topped five inches. Two of us did not have four-wheel-drive vehicles. Once we hit the eighth tree, and realized that going up any further would result in a night of snow camping that we weren't prepared for, we modified our plans, turned around, and drove to the south end.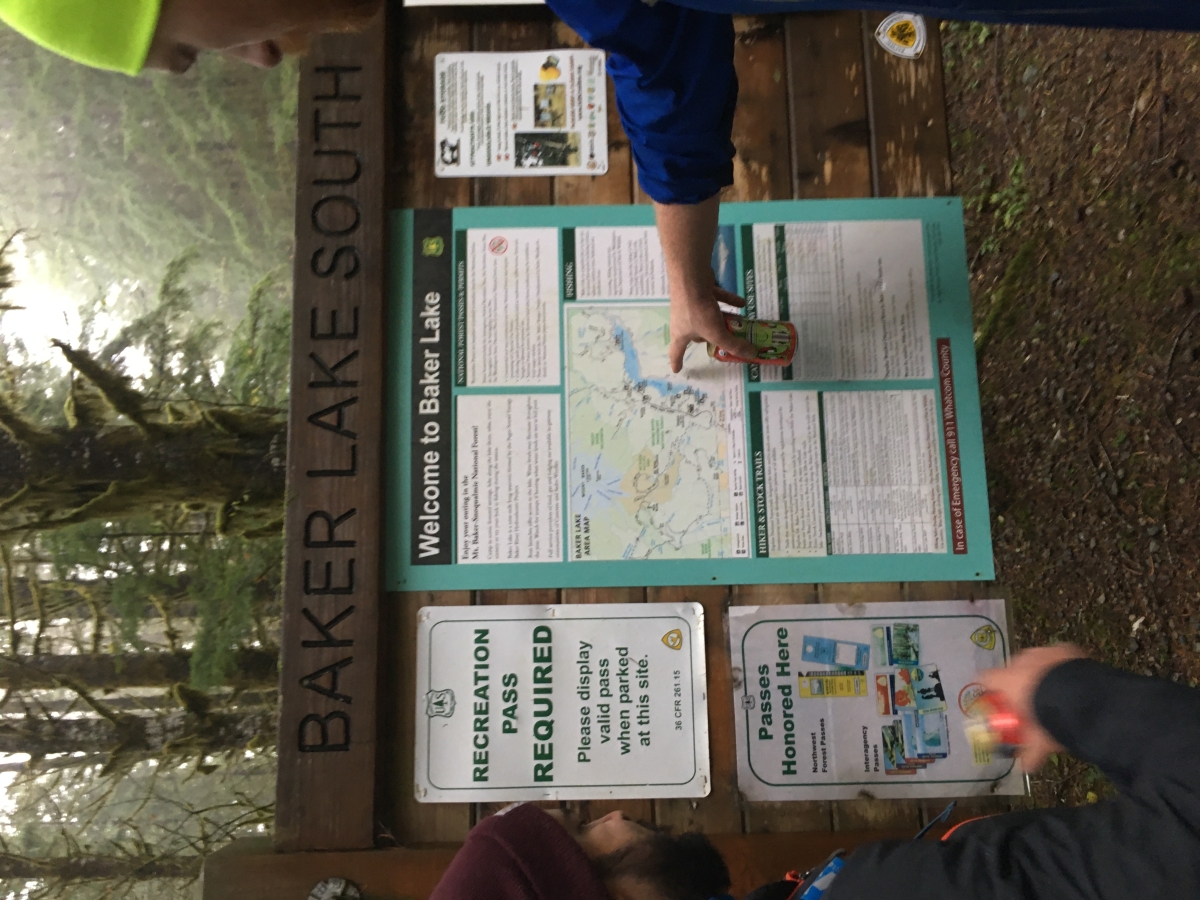 The Baker Lake South trail winds its way north from the southern point of the lake. Along the way, it passes several different points and campgrounds. The Maple Grove Campground is probably its most popular one, and we started toward it, at around 2pm. Thankfully, it was not snowing at the lower-elevation southern part of the lake. Instead it was pouring down rain!
The trail here is well-maintained, with little elevation gain, and scattered views of the lake. You cross several creeks as you go.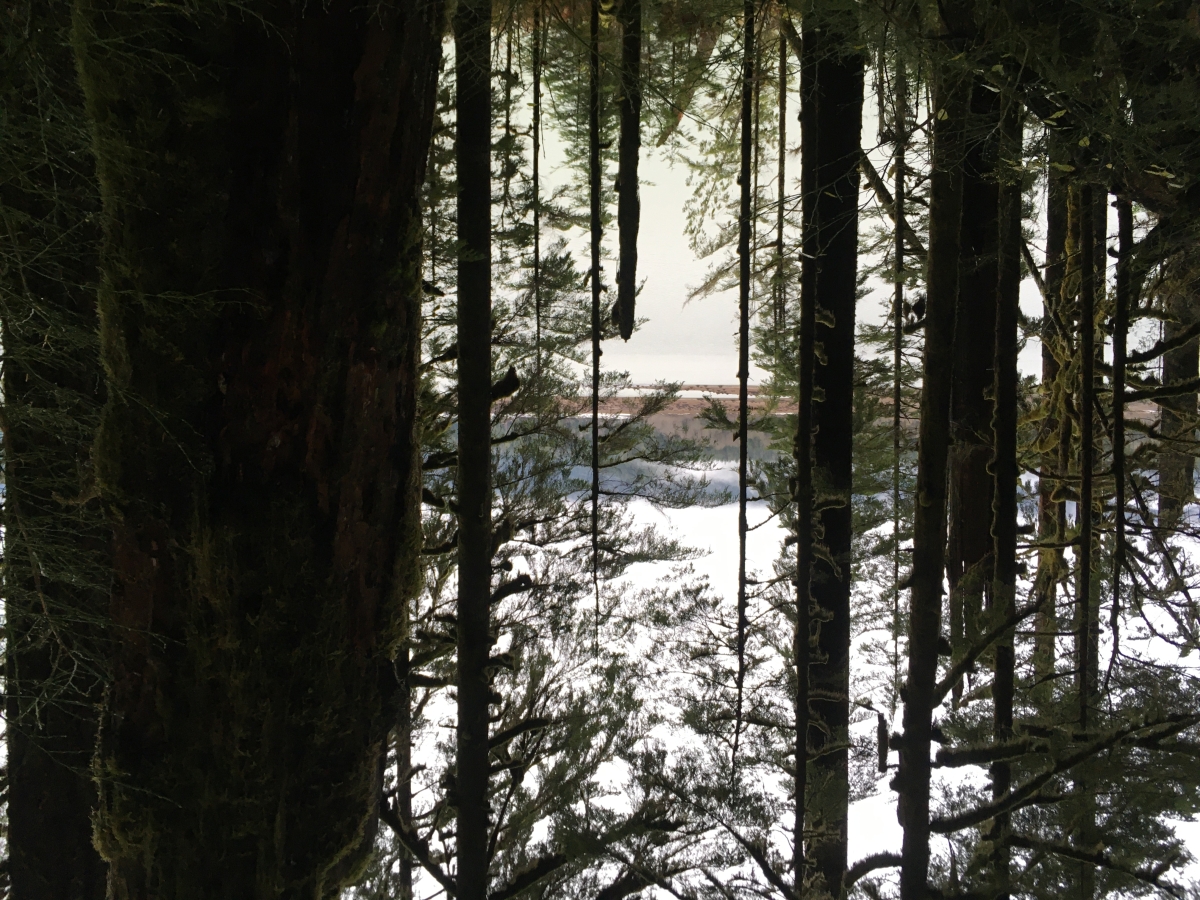 The trail crews in the area have installed some magnificent bridges across these creeks.
Above: A video I made for my kids to hopefully get them excited for coming up to Baker Lake for an overnight backpacking trip in the summer.
If you want to support trail work like this bridge, the active non-profit in the area that builds and maintains trails is the Washington Trails Association. Please consider giving time or money to the WTA to keep trails like this open to people from all walks of life.
The first major landmark you will come across on the Baker Lake South trail is Anderson Point.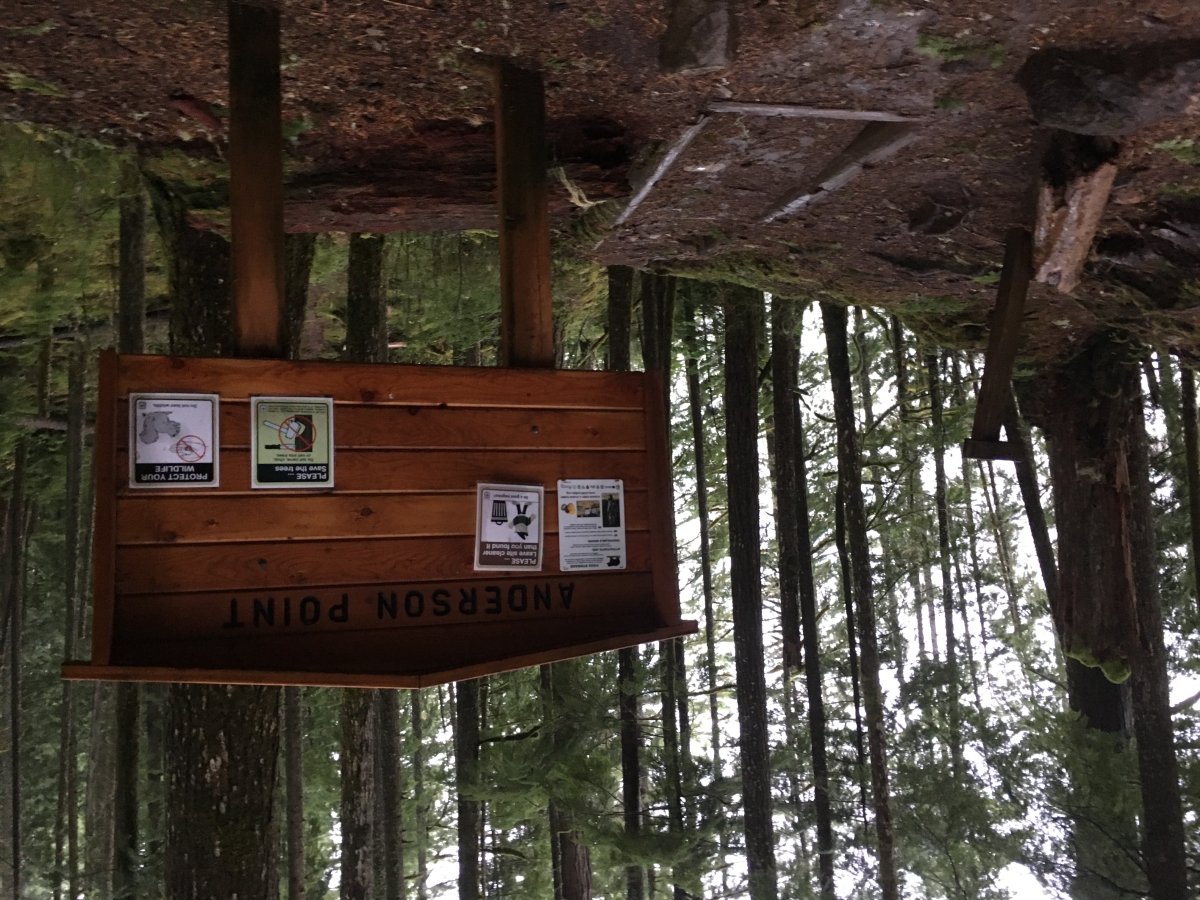 Awhile further, you'll come to the first campground: Horseshoe Cove. We came to Horsehoe Cove around 2:45pm so we decided to head up further to the popular Maple Grove Campground instead. Many people kayak to these campgrounds to camp, instead of hiking. We arrived at Maple Grove around 3:45p. My down coat was completely drenched by this point, so I worried about the possibility of hypothermia. I did have a warm Columbia fleece and several other layers, though, so I think I was ok. We found a nice spot in Maple Grove closer to the lake, and set up our gear.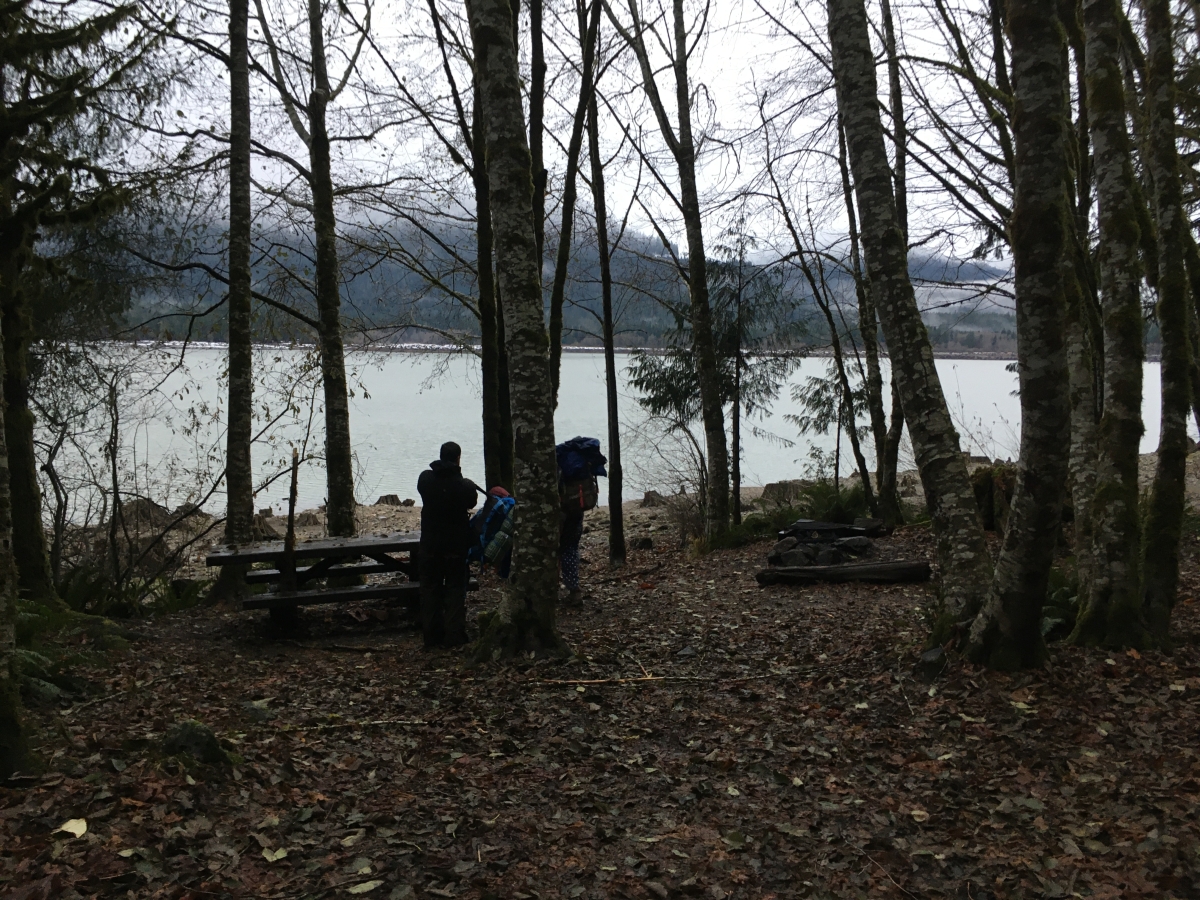 The rain transitioned to a downpour. We thankfully had a large tarp to suspend over our picnic table. We were cold, wet, and tired from a day filled with clearing downed trees and backpacking in forty pounds of gear. It was nice to be near the lake, though.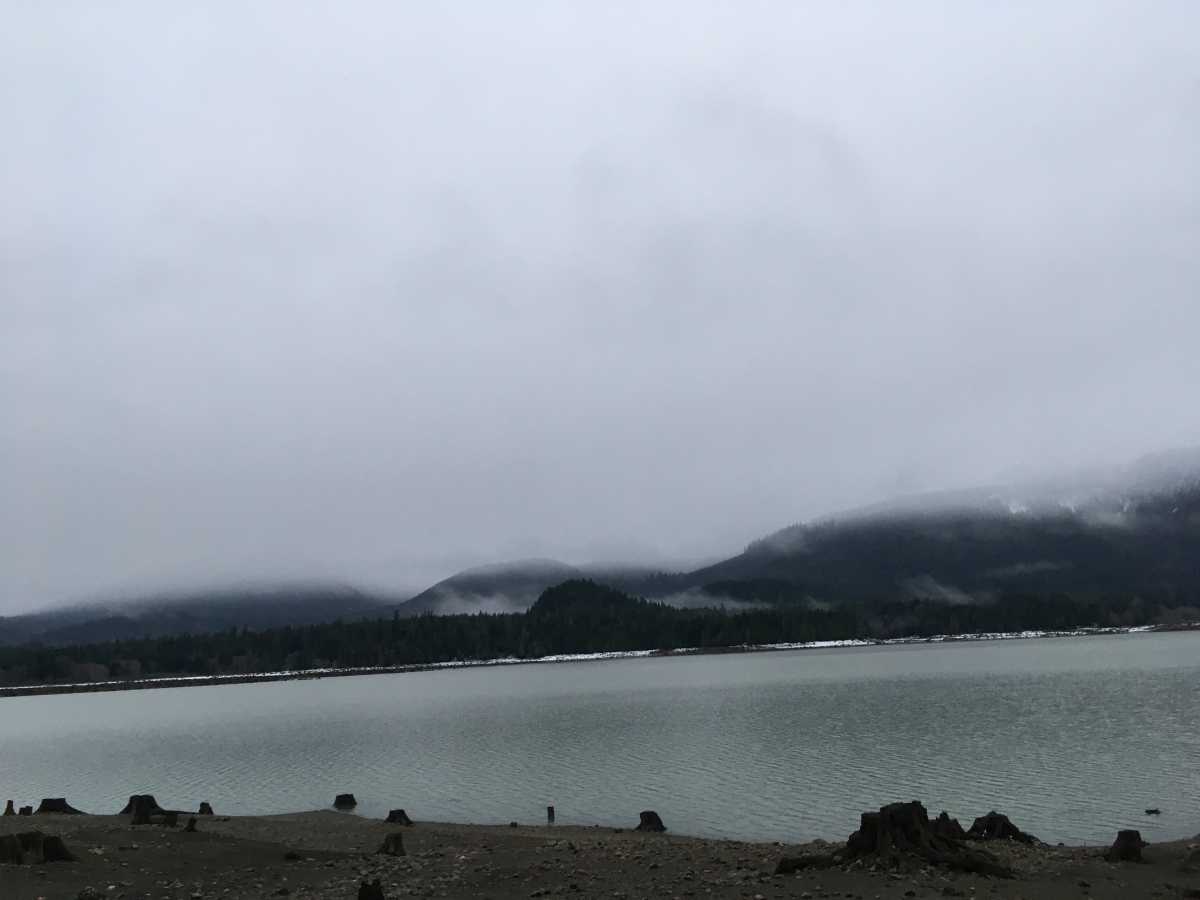 It rained all night and proved to be pretty miserable. I guess that's what you get when you go backpacking just two weeks before Thanksgiving in the Pacific Northwest.

Next selection?
$ t_
trail notes
$ c_
content